Bohemia SPA hotel
Address: Hlavní 100, Mrianske Lazne, 353 01 (map)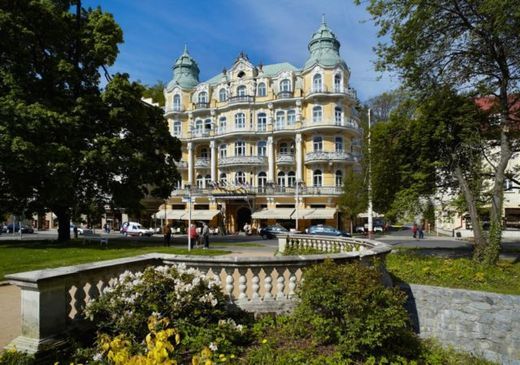 Beautiful historic building of Bohemia 4 * resort is located in central part of Marianske Lazne and offers a new spa services and amenities.
Colonnade with the Singing Fountain and healing springs are only 300 meters away.
Clean air, medicinal springs, lovely relaxing atmosphere and pleasant melody of color-music fountain have a beneficial effect on the health of travelers in Marianske Lazne.
The resort has its own conference room for training or business meetings, restaurant and a cafe, which is a great place for a casual conversation over a cup of coffee, glass of wine or cocktail ...
Rooms in hotel
The sanatorium has 76 rooms: 9 single rooms, 63 double rooms and 4 apartments.
Indications for spa treatment
• Diseases of the kidney and urinary tract: chronic inflammation, rehabilitation after surgery or radiation pulse crushing stones in kidneys and bladder, conditions after operations on kidneys and ureters, prostatitis (inflammation, postoperative conditions), kids urinary tract infections aged 6 to 15 years, chronic inflammation of kidneys, ureters, bladder, urethra, urinary stones urolithiasis post-operative conditions of kidneys and urinary tract.
• Diseases of respiratory system: chronic inflammation, bronchial asthma, allergic airway disease, conditions after surgeries of lower respiratory tract.
• Metabolic diseases: obesity, gout, constipation, diabetes.
• Gastrointestinal diseases.
• Diseases of nervous system.
TREATMENT
Offices of doctors and experts, extensive medical department provides comprehensive spa treatment on a high level. The newly built spa center offers: pearl baths, spot and underwater massage, inhalations, paraffin treatments, electrotherapy, gas packs, injections and a wide range of modern treatment methods.
List of medical and Wellness procedures provided in the hotel:
Classic overall Massage, facial massage, underwater massage, reflexology massage, paraffin wraps, paraffin hand wrap, pearl bath, ultrasound, Strengthening wrap, aromatherapy massage, special honey massage, anti-cellulite program.
The price of spa treatments includes:
Primary, control (1 per week) and final medical examination
10 therapeutic treatments per week based on a doctor's prescription, drinking program, non stop medical supervision.
Control inspection if necessary, laboratory tests.
Accommodation in desired category.
Meals: full board (FBT) or half board (HBT).
WiFi internet access in the rooms and throughout the hotel.

Prices for accommodation and treatment in Bohemia sanatorium 4 *
The gross price (incl. 25% commission for agents to net price EUROPA STARTOUR) for 2016
ROOMS

04.1 - 30.4

01.11 - 30.11

01.5 - 30.6

01.10 - 31.10

22.12 - 28.12

29.12 - 03.1

Price per person per night, €
FBT
HBT
FBT
HBT
FBT
HBT
DBL STANDART
59
52
68
62
76
70
SGL STANDART
67
60
78
71
86
79
SUITE
71
64
80
74
91
84
EXTRA BED
60
51
67
60
75
68
* Min. period of stay in the resort - 7 nights.
Discounts for children on an extra bed:
• 0-2 years old - free of charge (no meals) provided two adults in the room.
• 4-12 years – 47 euro per night with breakfast and treatment.
• Transfer Prague Airport - Marianske Lazne - € 90 (per car 1-3 pers.)
Our Contract partners may book Spa therapeutic tour in Bohemia sanatorium 4 * online.
New partners will be able to access our on-line booking form on this link.
Send a request to check availability of the hotel
* Required field