Centralni Lazne SPA hotel
Address: Goethovo namesti 1, Marianske Lazne, 353 43 (map)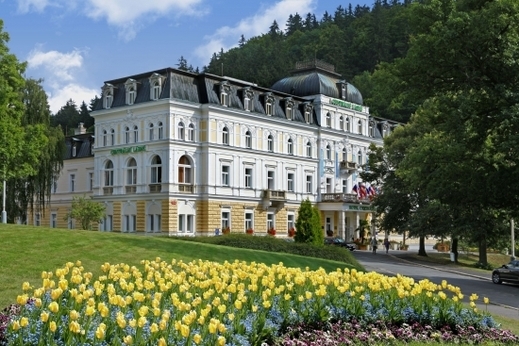 Sanatorium Central Lazne is located in a center of resort town, near the colonnade, parks and Ambrozhova springs pavilion. Directly in this spa hotel is located Mary spring. Here for the first time began to be used a steam baths and mud wraps for treatment.
The resort has the largest Balneocomplex with 24 cabins for treatments, ensuring peace and privacy, where guests have a truly unique opportunity to complete a full course of treatment in the historical premises of the XIX century beginning.
Resort offers its guests a traditional spa treatments using local natural remedies.
Sanatorium is connected with the transition hotels Nové Lázně ***** and **** Marino Lazne.
Rooms in hotel
Health resort has 108 rooms of Superior, Superior Plus, Junior Suite category and apartments.
Indications for spa treatment
• Diseases of musculoskeletal system: algic vertebral syndrome (backache), degenerative diseases of musculoskeletal system (spine and large joints), osteoporosis, post-orthopedic surgery (using artificial joints).
• Diseases of the kidney and urinary tract: chronic inflammation, rehabilitation after surgery or radiation pulse crushing stones in kidneys and bladder, conditions after operations on kidneys and ureters, prostatitis (inflammation, postoperative conditions), kids urinary tract infections aged 6 to 15 years, chronic inflammation of kidneys, ureters, bladder, urethra, urinary stones urolithiasis post-operative conditions of kidneys and urinary tract.
• Diseases of respiratory system: chronic inflammation, bronchial asthma, allergic airway disease, conditions after surgeries of lower respiratory tract.
• Metabolic diseases: obesity, gout, constipation, diabetes.
• Gynecological disorders, including Infertility: inflammation of internal and external female genital organs, conditions after gynecological surgery, sterility and infertility, menopausal syndrome, Urgent and stress incontinence of urine, gynecological disorders in girls from 6 to 15 years of inflammatory conditions in the pelvic area and prevention of disorder due to sterility operations abdomen girls in childhood.
• Cardiovascular disease: Condition after myocardial infarction, hypertensive heart disease 2 and 3 degrees, functional disorders of peripheral vascular disease, post-thrombosis, ischemic heart disease, coronary artery disease of lower limbs, potency disorders.
• Cancer: patients rehabilitation after treatment of cancer of breast, genitals and other cancers except malignant blood diseases.
TREATMENT
Doctors' offices and the largest in Marienbad therapy department offers high-level complex spa treatment, laboratory tests, treatments based on natural healing resources - mineral baths, mud envelopes, dry carbon dioxide baths, gas injections, hydrotherapy in a complex of Roman baths and a wide range of modern treatments.
Ambrozhov and Balbina springs are for drinking water program and mineral baths, which are located directly in the hotel.
The price of spa treatments includes:
Primary, control (1 per week) and final medical examination
24 treatments per week for accommodation (FBT) and 10 procedures (HBR) as prescribed, mineral drinking water program, non stop medical supervision.
Control inspections if necessary, laboratory tests.
Accommodation in desired category.
Meals: full board (FBT) or half board (HBR)
Fitness center "Danubius Premier Fitness" in the sanatorium Central Lazne, 3 swimming pools in the historic Roman baths with whirlpool, sauna, steam room and samarium, entrance to aqua center with a swimming pool in resort Star.
WiFi internet access in the rooms and throughout the hotel.

Prices for accommodation and treatment in Centralni Lazne sanatorium 4+ *
The gross price (incl. 25% commission for agents to net price EUROPA STARTOUR) for 2016
ROOMS

15.4 - 20.10

21.12 - 07.1

01.3 - 14.4

21.10 -10.11

08.1 - 28.2

11.22 - 20.12

Price per person per night, €
FBT
HBT
FBT
HBT
FBT
HBT
DBL SUPERIOR
135
120
122
107
111
96
SGL SUPERIOR
155
140
142
127
131
116
DBL SUPERIOR +
140
125
127
112
116
101
SGL SUPERIOR +
160
145
147
132
136
121
DBL JUNIOR SUITE
150
135
137
122
126
111
APARTMENTS
200
185
187
172
176
161
EXTRA BED
103
88
103
88
103
88
EXTRA BED AP., SUITE
113
98
113
98
113
98
* Min. period of stay in the resort - 7 nights.
If you replacing full board (FBT) on half board (HBT) price for 1 day decreased by € 10.
Discounts for children on an extra bed:
• 0-3 years old - free of charge (no meals) provided two adults in the room.
• 4-12 years – 60 euro per night with breakfast.
• Transfer Prague Airport - Marianske Lazne - € 90 (per car 1-3 pers.)
Our Contract partners may book Spa therapeutic tour in Centralni Lazne sanatorium 4+ * online.
New partners will be able to access our on-line booking form on this link.
Send a request to check availability of the hotel
* Required field