Cristal Palace SPA hotel
Addres: Hlavni 61, Marianske Lazne, 353 01 (map)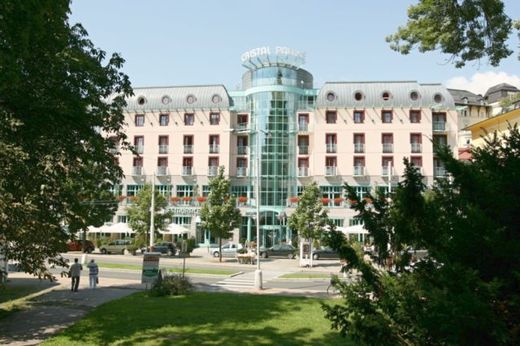 Sanatorium Crystal Palac is located in a heart of Marianske Lazne on the main street of the city, close to the city park and the colonnade. At 50 meters from hotel is treatment spring Alexandra.
The hotel also has a balneological center.
Guests can use relaxation center for free (swimming pool with waterfall and massage counter, sauna, jacuzzi).
There is free WiFi in the rooms and lobby. In addition, the hotel Cristal Palace can enjoy a traditional Thai massage, which is carried out by experts from Thailand.
Rooms in hotel
The hotel has 93 comfortable rooms of Standart and Suite categories.
Indications for spa treatment
• Treatment of kidney and urinary tract: chronic inflammation of urinary tract and kidneys, rehabilitation after surgery or radiation pulse crushing stones in the kidneys and bladder, conditions after operations on kidneys and ureters, prostate disease (inflammation, postoperative conditions).
• Diseases of the musculoskeletal system: algic vertebral syndrome (backache), degenerative diseases of the musculoskeletal system (spine and large joints), post-orthopedic surgery (using artificial joints), osteoporosis.
• Respiratory diseases: chronic lung disease, bronchial asthma, allergic rhinitis, post-operation conditions of lower respiratory tract.
• Metabolic and endocrine functions: obesity, gout, constipation, diabetes.
• Gynecological diseases: gynecological inflammation, conditions after gynecological surgery, sterility and infertility (infertility), climacteric syndrome, urgent and stress urinary incontinence.
• Cancer: rehabilitation of patients after cancer treatment, breast cancer and reproductive organs, rehabilitation after finished cancer treatment of other organs in the absence of metastases (with the exception of malignant blood diseases).
• Treatment of non-core diseases: hypertension, compensated coronary heart disease, ischemic disease of the lower limbs, potency disorders.
TREATMENT
Cristal Palace Hotel has its own modern treatment and rehabilitation center, which provides complex spa treatment. Treatment is carried out under the supervision of doctors and medical staff
MUD CURE

(application of peloids)

• Natural Mud Wraps

• Parafango (packaged mud packs)

• Mud bath

• mud vaginal tampons

HARDWARE TREATMENT

• Electrotherapy

• Pulsed magnetic therapy

• Ultrasound Therapy

• Laser therapy

• Hardware lymphatic drainage

Massages

• Classical Massage

• Manual lymphatic drainage

• Reflexology massage
Other procedures: dry gas bath, gas injection, inhalation, Oxygen Therapy, Private physiotherapy, small foam balls massage, Aslan-Gerovital, Individual exercises.
The price of spa treatments includes:
• First, control (1 per week) and final medical examination
• 18 spa treatments per week as prescribed, mineral drinking water program, non stop medical supervision.
• Control inspections if necessary, laboratory tests.
• Accommodation in a room of desired category.
• Access to relaxation center with a swimming pool, sauna and whirlpool.
• Meals: Full board (FBT)
• Wellness set for relaxation center (bathrobe, towel and slippers)
• WiFi internet access in the rooms.
• Tourist tax.
Prices for accommodation and treatment in Cristal Palace sanatorium 4 *
The gross price (incl. 25% commission for agents to net price EUROPA STARTOUR) for 2016
ROOMS

28.4 - 15.6

18.8 - 12.10

22.12 - 31.12

17.3 - 27.4

13.10 - 09.11

16.6 - 17.8

06.1 -16.3

10.11 - 21.12

Price per person per night, €
HBT
FBT
HBT
FBT
HBT
FBT
DBL STANDART
98
109
86
97
74
84
SGL STANDART
117
127
107
116
93
102
SUITE
119
129
117
118
95
114
* Min. period of stay in the resort - 7 nights.
If you replacing full board (FBT) on half board (HBT) price for 1 day decreased by € 10.
Discounts for children on an extra bed:
• 0-5 years old - free of charge (no meals) provided two adults in the room.
• 6-12 years with meals and treatment – 50% discount per night with full board.
• Transfer Prague Airport - Marianske Lazne - € 90 (per car 1-3 pers.)
Our Contract partners may book Spa therapeutic tour in Cristal Palace sanatorium 4 * online.
New partners will be able to access our on-line booking form on this link.
Send a request to check availability of the hotel
* Required field