ESPLANADE SPA hotel
Address: Karlovarska 438, Marianske Lazne, 353 01 (map)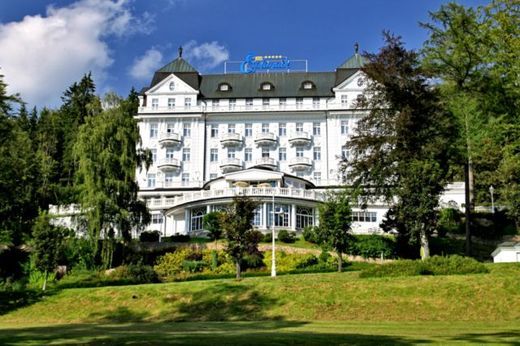 The resort is located in a beautiful wooded park and offers a magnificent view of the resort town. In the vicinity of the hotel there is a golf course Royal Golf Club Mariánské Lázně.
Among the visitors were such famous personalities as Goethe, Straus, Kafka, Kipling, Nobel and many others. The English King Edward VII visited it for nine times.
Wellness Center Esplanade Spa & Golf Resort is the perfect place for outdoor activities for individuals, golf and congress tourism with all spa treatments and Thai massage performed by the Native Thai therapists.
Rooms in hotel
Spa offers 88 comfortable rooms, including 25 Royal and Esplanade apartments. All rooms have air conditioning with individual temperature selection. Equipped with a telephone with an answering machine, wi-fi, minibar, safe and satellite TV. The spacious marble bathrooms have whirlpool baths.
Indications for spa treatment
• Diseases of musculoskeletal system: algic vertebral syndrome (backache), degenerative diseases of musculoskeletal system (spine and large joints), osteoporosis, post-orthopedic surgery (using artificial joints).
• Diseases of kidney and urinary tract: chronic inflammation, rehabilitation after surgery or radiation pulse crushing stones in kidneys and bladder, conditions after operations on kidneys and ureters, prostatitis (inflammation, postoperative conditions), kids urinary tract infections aged 6 to 15 years, chronic inflammation of kidneys, ureters, bladder, urethra, urinary stones urolithiasis post-operative conditions of kidneys and urinary tract.
• Diseases of respiratory system: chronic inflammation, bronchial asthma, allergic airway disease, conditions after surgeries of lower respiratory tract.
• Metabolic diseases: obesity, gout, constipation, diabetes.
• Gynecological disorders, including Infertility: inflammation of internal and external female genital organs, conditions after gynecological surgery, sterility and infertility, menopausal syndrome, Urgent and stress incontinence of urine, gynecological disorders in girls from 6 to 15 years of inflammatory conditions in the pelvic area and prevention of disorder due to sterility operations abdomen girls in childhood.
• Cardiovascular disease: Condition after myocardial infarction, hypertensive heart disease 2 and 3 degrees, functional disorders of peripheral vascular disease, post-thrombosis, ischemic heart disease, coronary artery disease of lower limbs, potency disorders.
• Prevention Program
TREATMENT
Treatment is provided in their own balneological center Spa & Wellness which offers a wide range of treatment programs, relaxation and weight loss.
Spa & Wellness centrum offers classic massage, underwater massage, honey massage, paraffin wraps, mud packs, electrotherapy, ultrasound, hydrocarbon bath, hydromassage, Thermojet and many other spa treatments carried out under the supervision of a professional spa staff.
Sanatorium has its own mineral water spring of St Mary-Eve.
The price of spa treatments includes:
21 medical procedure of your choice, or as recommended by doctor or medical staff of sanatorium, mineral drinking water program, non stop medical supervision. **
Accommodation in desired category.
Meals: full board (FBT), half board (FBT) or breakfast (BBT)
Free use of swimming pool and fitness facilities throughout the resort stay.
WiFi internet access in the rooms and throughout the hotel.

Prices for accommodation and treatment in Esplanade sanatorium 5 *
The gross price (incl. 25% commission for agents to net price EUROPA STARTOUR) for 2016
ROOMS

28.4 - 10.5

01.4 - 27.4

11.5 - 31.5

01.8 - 31.10

01.6 - 31.7

Price per person per night, €
FBT
HBT
BBT
FBT
HBT
BBT
FBT
HBT
BBT
DBL SINGLE USE
289
263
232
271
244
214
252
226
195
DBL SUPERIOR
209
182
152
199
172
142
188
162
131
SUITE
236
210
179
224
198
167
212
186
155
EXTRA BED
156
130
100
156
130
100
156
130
100
Min. period of stay in resort - 7 nights.
** Extra charge for introductory medical examination - 35 €.
Discounts for children on an extra bed:
• 0-5 years old - free of charge (no meals) provided two adults in the room.
• 6-12 years cost 40 euros per night with full board.
• Transfer Prague Airport - Marianske Lazne - € 90 (per car 1-3 pers.)
Our Contract partners may book Spa therapeutic tour in a Esplanade sanatorium 5 * online.
New partners will be able to access our on-line booking form on this link.
Send a request to check availability of the hotel
* Required field