For kids
Prague is a beautifully preserved city, rich in mystery, ghosts and legends, a center of science and alchemy in the Middle Ages and Renaissance (home to Johannes Kepler and Tycho Brahe). Children will be fascinated by legends of the golem, the giant brought to life by Rabbi Loew, or Duke Bruncvik's miraculous sword buried in the Charles Bridge, alchemists conjuring gold in their melting pots, water goblins in the Vltava River.

The Toy Museum
The Toy Museum (Museum hraček) was created by Ivan Steiger with the aim to collect as many lovers of childhood.The collection of toys in the Museum is considered as one of the largest in the world.
And this is just a small list of all the wonders of the toy Museum! In this Museum you can see the whole toy world in the heart of Prague.The toy Museum is divided into two sections. The first is an exhibition of antique toys, and the second a collection of Barbie dolls, more than one thousand of the legendary dolls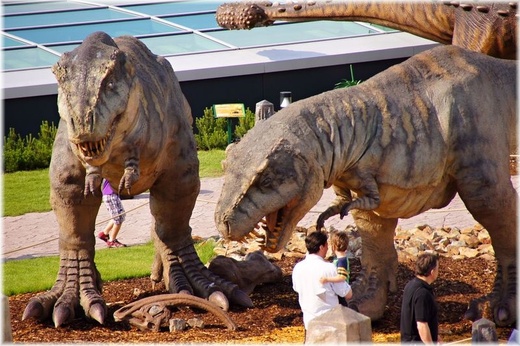 Dinopark
Dinopark is an amusement Park designed for the General public, including children from 5-15 years of age and older. Here you can see the recreated picture of the life of animals of the Mesozoic era, who lived long before the advent of humanity.All models of dinosaurs competently demonstrated to the visitors of the Park: take into account not only the real proportions, but also the habitat that are marked with special decorations

Prague Zoo
Prague Zoo is the most visited zoological garden in the Czech Republic. Annual visitor numbers are around 1.3 million.
Over the course of 4 or 5 hours you should be able to cover most areas. Animals range from penguins, sea lions, lions, tigers and elephants to Markhor and Ibex - superbly held in mountain enclosures. Giraffes also have a huge valley to roam through.Prague Zoo is well worth a visit, not just for the animals, but also for the pleasant countryside.

5D

cinema
5D cinema in Prague allows you not only to pass three-dimensional image and Hi-Fi sound, and feel the storm blowing wind and other effects. Moving dynamic chairs create the illusion of free fall or breakneck speed.
The capacity of the cinema – 8. The cinema is in a shopping center Galeriе Harfa close to Dinopark.
The film lasts 4 to 11 minutes.