Frantiskovy Lazne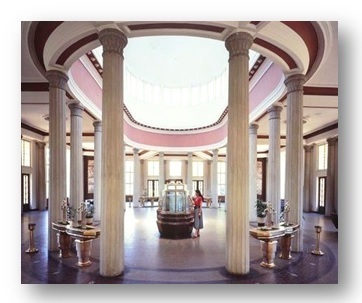 The most western small resort town Franzensbad was founded in 1793. Mild climate, relaxed resort atmosphere from the first half of 20th century - distinctive features of this resort. Many parks attract visitors to walks and meditation.
Aqua Park "Aquaforum", solarium, mini golf, fitness centers, tennis courts as well as opportunity to fishing in designated areas is waiting for guests of Frantiskovy Lazne.
Medicinal springs of Frantiskovy Lazne resort
More than 20 mineral springs and sulfur-rich alkaline mineral water, ferruginous mud and natural gas used in the treatment of cardiovascular diseases, disorders of musculoskeletal system, gynecological diseases and infertility, as well as for rehabilitation of patients who have had heart attacks.
SPA hotels in Frantiskovy Lazne - our golden partners

Neo-Renaissance building of sanatorium Savoy sanatorium was built in 1795 by architect Anton Shambel. This is one of the oldest hotels in the city, that has preserved a tradition of hospitality, as well as atmosphere of care and attention to their clients. The hotel has a wonderful restaurant, cafe-bar and a fully equipped balneology center with a natural spring of mineral water, an indoor pool and a sauna.
Sanatorium Harvey is located on the outskirts of resort, in a quiet and peaceful location near the central forest park, just in a short walk from resort center Franzensbad.Spa & Kur Hotel Harvey - a place that attracts attention. In the low-key atmosphere of restored building in the neoclassical style you will see first class service of a four star hotel, spa and wellness programs led by professional therapists and doctors, gastronomic experiences, and all that is inextricably linked with the unforgettable moments of your physical and spiritual relaxation. details...
Sanatorium Imperial is located in a center of the resort. Its a luxurious villa, built by famous Czech architect Karl Veydermann in neo-Renaissance style in 1878.The resort has its balneological center, where you can get required procedures proposed for medical reasons. Medical service operates non stop.
&
Sanatorium Pawlik is a complex of buildings connected to each other, which includes hotels Pawlik 4 * and 3 *, mini-aqua park "Aquaforum", fitness & wellness center Fitforem and balneology complex Cisarske lazne- building, where provides all treatments.


Сozy resort Dr. Adler offers both traditional treatments and special health programs. It is located in the heart of resort Franzensbad, close to the park and city theater. It is surrounded by a beautiful park, named in honor of the great Czech composer, pianist and conductor Berdzhiha Smetana.