Harvey SPA hotel
Address: Dlouhá 222, Frantiskove Lazne, 351 01 (map)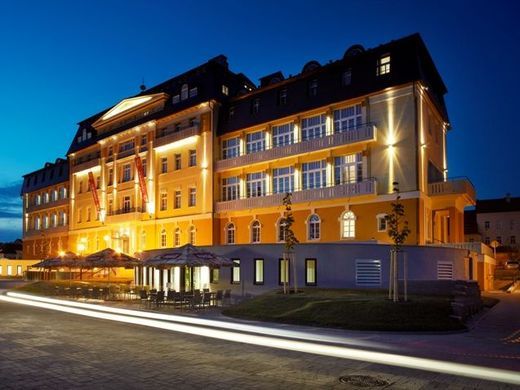 Sanatorium Harvey is located on the outskirts of resort, in a quiet and peaceful location near the central forest park, just in a short walk from resort center Franzensbad.
Spa & Kur Hotel Harvey - a place that attracts attention. In the low-key atmosphere of restored building in the neoclassical style you will see first class service of a four star hotel, spa and wellness programs led by professional therapists and doctors, gastronomic experiences, and all that is inextricably linked with the unforgettable moments of your physical and spiritual relaxation.
Hotel Harvey - this is perfect option if you want to take a course of rehabilitation or relaxation in the spa center Frantiskove lazne. It offers not only the procedure of balneotherapy in full and non stop medical supervision, but also pleasant wellness treatments - is perfect place to relax and restore your body and spirit.
Rooms in hotel
Sanatorium has 108 rooms: 8 single rooms, 79 double rooms, 17 double rooms and 4 luxury apartments of Superior type.
Indications for spa treatment
Diseases of cardiovascular system: coronary heart disease, angina, heart failure, postinfarction state hypertension.
Diseases of musculoskeletal system: metabolic disease with damage to joints, vertebral back pain, painful functional disorders of the spine, post-traumatic conditions of musculoskeletal system and the condition of patients undergoing orthopedic surgery, deforming arthritis, arthritis without inflammation, juvenile scoliosis, rheumatism (in including children) and its implications.
Gynecological diseases: adnexitises, metritis, inflammatory diseases of external genitalia, problems with menopause, post-gynecological surgery, infertility treatment, children's gynecological diseases.
Metabolic and endocrine glands: obesity, gout, constipation, diabetes, hyperlipoproteinemia.
Control care after cancer.
Prevention programs.
TREATMENT
Physiotherapy

Paraffin wraps
Magnetic therapy
Several types of electrotherapy
Therapeutic exercise
Reflexology

Special treatment:

Manual and mechanical lymphatic drainage
The price of spa treatments includes:
First, control (1 per week) and final medical examination.
24 medical treatments per week for accommodation (FBT) and 12 procedures (FBR) prescribed by a doctor in accordance with the current state of health.
Accommodation in a desired category.
Meals: Full board (FBT).
Visiting wellness center (swimming pool, sauna and fitness).
Resort fee.
Prices for accommodation and treatment in Harvey sanatorium 4 *
The gross price (incl. 18% commission for agents to net price EUROPA STARTOUR) for 2016
ROOMS

01.4 - 30.4

01.10 - 16.11

01.5 - 30.9

17.11 - 19.12

03.1 - 31.3

Price per person per night, €
HBT
FBT
HBT
FBT
HBT
FBT
SGL ECONOM
63
71
72
80
52
60
SGL STANDART
74
82
77
85
63
71
SGL COMFORT
77
84
82
88
66
74
DBL STANDART
66
74
74
82
55
64
DBL COMFORT
69
77
78
86
57
66
DBL SUPERIOR
77
85
81
90
65
73
DBL SUPERIOR +
80
89
91
99
68
76
APPARTMENTS
96
104
121
129
81
90
* Min. period of stay in the resort - 7 nights.
Discounts for children on an extra bed:
• 0-2 years old - free of charge (hotel accommodation with meals)
• 3-11 years old - 50% of the cost (hotel accommodation with meals)
• up yo 12 years - the total price of a tour.
• Airport – Frantiskove Lazne - € 90 (per car 1-3 pers.)
Our Contract partners may book Spa therapeutic tour in Harvey sanatorium 4 * online.
New partners will be able to access our on-line booking form on this link.
Send a request to check availability of the hotel
* Required field