Holidays in Prague. Places to see in Prague, Czech Republic
01/08/2015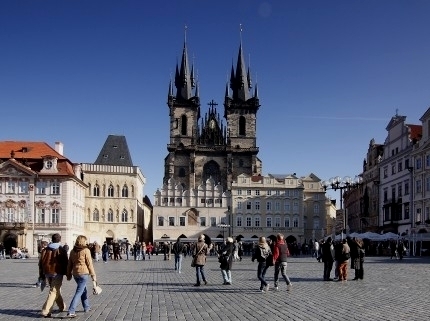 Prague, Czech Republic - City that is magical in every time of the year. Winter Prague is like a fairy tale- Everything is dressed up in Christmas, people, shops, buildings even cars. Magic is in the air and you believe that your dreams may come true, because in this city, full of mystery and romanticism, everything can happen!
In Summer Prague is sunny and friendly. You can enjoy long evening walks around the city, visiting towering churches, centuries-old bridges, alleyways, and buildings that span over various style periods. Prague has an extraordinary charm which can be sensed in every season. Its status as a UNESCO World Heritage site speaks for its worth. Since the very beginnings of the Czech state, Prague has been its natural political, business and cultural centre. This historic yet modern city is more than 1,000 years old. So if you haven't decided yet where to spend your vacation-the answer is easy! Visit Prague and you will fell in love with one of the world's most beautiful cities.
---
Things to see in Prague.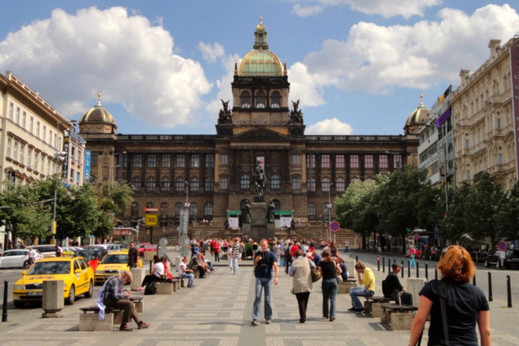 Wenceslas Square
Wenceslas Square - the World Heritage listed Wenceslas Square is like many Squares in Prague, that is, they are not Square. Wenceslas Square is one of these. It is a very long rectangle with the beautiful neo-classical Czech National Museum at one end. It is the visit card of Prague. Wenceslas Square is the biggest square in Prague and a business and cultural centre of the city. It has its origins in 14th century when King Charles IV founded the New Town in 1348.
The Charles Bridge
The Charles Bridge. Prague's 13th century Charles Bridge is undoubtedly a top priority on list of sights to visit.
The bridge is 516 meters long and nearly 10 m wide, resting on 16 arches shielded by ice guards. Charles Bridge is the lifeblood and the symbol of Prague.
St. Vitus' Cathedral
St. Vitus' Cathedral. You can first marvel at the architecture from the outside, then make your way inside and admire the remarkable workmanship and detail of everything you see.
While it might not look like it, the cathedral's construction occurred across many centuries -- it was begun in 1344, but wasn't completely finished until 1929.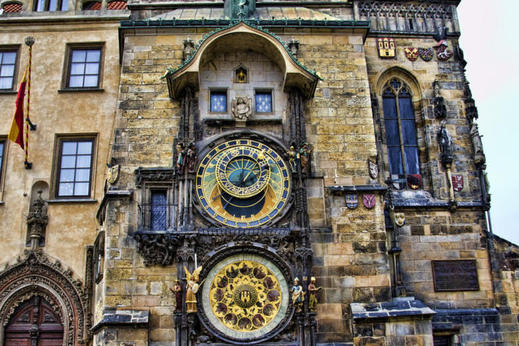 The Astronomical Clock
Astronomical Clock. One of the most touristic and historic spots in Prague, located just next to the Old Town Square.
Its on the wall of the Old Town Hall and is a clockwork hourly show of figures of the Apostles and other moving sculptures.
Petrin Tower
Petrin Tower. The Petrin Observation Tower was built as a mini version of Paris's Eiffel Tower.The tower is 60m tall and it sits on top of Petrin Hill, which is 318m (1043 feet) high. You can climb the 299 steps to reach the top of the tower and enjoy the magnificent view over Prague. On a clear day you can even see the highest peak in the Czech Republic, Snezka, which is 150 km away!
Alphons Mucha Museum
The Mucha Museum offers you a unique view into the world of Alphonse Mucha (1860-1939), one of the most celebrated artists of the Art Nouveau period." Located in the 18th century kaunicky palace the Mucha museum is dedicated to his works. Mucha was a famous czech art nouveau painter and sculptor. For those interested in art nouveau this is a must see museum in Prague.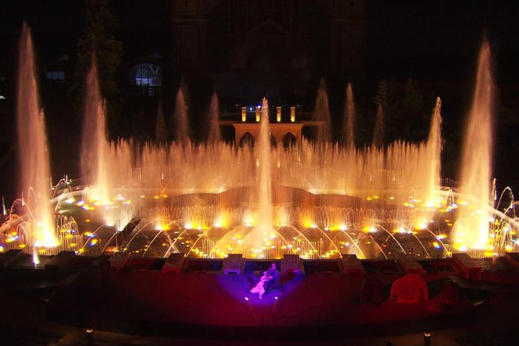 Krizik fountain
Krizik fountain. You will see the wonderfull show. It is a mixture of ballet, music, lights,fountains, fire and even a projection on water. It is so colourfull that you simply do not know where to look to not miss anything. You will really enjoy every minute of the show.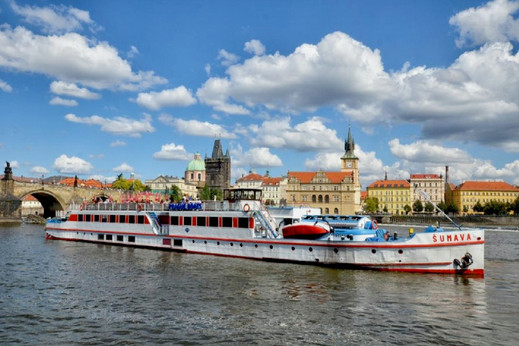 Boat tour- cruise
Boat tour- cruise. Prague is such a beautiful city no matter where you see it from. If you want to try something new- try the boat tour-Very relaxing cruise that shows some highlights of Prague.
Of course there are a lot of other things to see nd do in Prague! And Our company with great pleasure will help you to make your group trip comfortable and memorable. We have been working in tourism for a long time and your satisfaction is our priority. We will choose for your group the best hotels in Prague, organise and plan excursions and offer europe tour packages.
---
You can send us your request and we will prepare the best tour package for your group with visiting the Prague's main attractions and places of interest. EuropaStar Event&Travel is a leading incoming DMC in Czech Republic, Czech Republic and we will make you sure that you'll enjoy your stay and will remember it for the whole life.