Karlovy Vary (Carlsbad)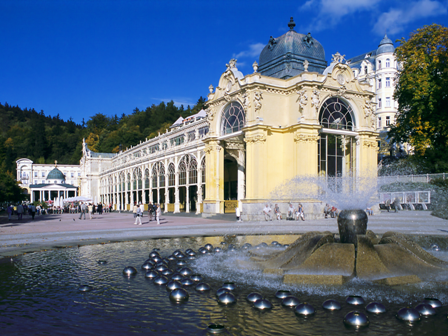 The Karlovy Vary (Carlsbad) spa is the largest resort in Czech Republic. It mainly provides the treatment of the digestive tract, the motor system and metabolic disorders. The city offers a large number of spa facilities where you can seek a comprehensive package of spa procedures as well as a broad variety of wellness programs. The local curative springs find all-purpose applications.
Karlovy Vary (Carlsbad) - interesting Facts
50 900 inhabitants, 76 000 spa visitors per year
90 hotels, 15 accessible mineral springs
26 parks and 9 churches
Carlsbad is the main spa town in West Bohemia, 360 – 644 m above sea level. It was founded around 1350 by Holy Roman Emperor and King of Bohemia, Charles IV. The first historically preserved knowledge of treatments comes from the end of the 14th century, when Charles IV bathed his ill legs in one of the mineral water springs. Since that time and until the 16th century the Karlsbad (Karlovy Vary) doctors practiced this type of spa treatment exclusively.
A busy social calendar, numerous festivals and international conferences make this, the largest spa town in the Czech Republic.
At the spa visitors can enjoy 18-hote golf course - the oldest one in the Czech Republic, tennis courts, bowling and a number of swimming pools. The town also has museums with exhibitions devoted to nature, spas, porcelain and glass, a cinema, a theatre, dance halls, casinos and nightclubs.
Karlovy Vary (Carlsbad) thermal mineral springs
Of the 79 sources with different yields, 13 are used for drinking cures. Mineral waters are similar in their basic composition, but because of different temperatures and carbon dioxide content they have different effects. The colder springs usually have a slightly laxative effect; warmer springs have a calming effect, slowing down the secretion of bile and gastric juices.
SPA hotels in Karlovy Vary (Carlsbad) - our golden partners

Grandhotel Pupp is a 5-star hotel in Karlovy Vary, Czech Republic. Its convenient position in this important West Bohemian city in the Valley of the Teplá River, makes it a prestigious choice for your business stay or holiday. The Grandhotel Pupp is an excellent destination for relaxation, well-being, and recreation.
Price: from €89 per person per night details...
Interhotel Central provides accommodation in the historical center of the spa town of Karlovy Vary.
The hotel offers a luxurious panoramic view of the river and the architecture of the imperial style. The SPA center of Interhotel Central offers both comprehensive and relaxation treatments for diseases of the digestive tract, joint and spine problems and metabolic disorders.
Prcie: from €80 per person per night details...
Hotel Sirius is set in a charming, historic bulding, in the heart of the spa town of Karlovy Vary overlooking the gardens of Antonin Dvorak, close to the colonnade with curative mineral springs. The hotel was reconstructed in 2008 and reopened its doors to its guests. The Sirius' spa area offers a variety of massages and body treatments.
Price: from €38 per person per night details...
Located in the heart of Karlovy Vary, 4-star Wellness Hotel Jean De Carro enjoys stunning panoramatic views of the city and offers an ideal conditions for anyone in search of recreation. Hotel Jean De Carro offers a wide selection of wellness treatments as well as massage, sauna or jacuzzi facilities.
Price: from €51 per person per night details...
The Spa Hotel Thermal is one of the largest spa hotels in the city of Karlovy Vary, situated close to the colonnade. This is a nice hotel for great wellness and relaxing vacation. The hotel features a summer outdoor pool and a new spa centre with an indoor pool. Various spa treatments and a fitness centre are also available.

Price: frpm €67 per person per night details...
The brand new spa hotel St. Joseph ROYAL REGENT was built on the site of a former spa house for priests built in 1889. St. Joseph Royal Regent hotel is located in very quiet part of spa area and also close to all springs. The hotel is known for first-class service, unique hotel wellness studio - Skyland situated on the top floor of the hotel. Hotel has its own balneological division of top standards.
Price: from €108 per person per night details...

With more than 100-year history recently renovated 4-star Humboldt Park Hotel & Spa occupies a magnificent building in the heart of Karlovy Vary close to the famous springs and the congress centre. Each hotel room has its individual decoration. The hotel has a large spa area with a pool. Various massages, pearl baths, lymph drainage, as well as thermal treatments (incl. mud) are available.
Price: from €52 per person per night details...
Other hotels and SPAs in Karlovy Vary
SPA hotel Pavlov

Price: from €70 per person per night
SPA hotel Оlympia

Price: from €113 per person per night