Regions in the Czech Republic. Excursions and tours.
«CESKY KRUMLOV» - (UNESCO site)
(Duration: 10 hours).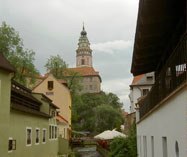 Český Krumlov, medieval town in Southern Bohemia has kept its almost fairy-tale charm until today and by right is registered at UNESCO heritage list. Historical centre is created by narrow and bended little streets with number of gothic, renaissance and baroque houses that originated as mansions of noblemen families - the Rožmberks, the Schwarzenbergs and the Eggenbergs. You will walk through the town accompanied by our guide and you also will have a lunch in a medieval tavern. After lunch, tour continues to visit the castle museum. Museum visitors have the unique opportunity to peek into the secrets of Castle depositories, which are reminiscent of the most important events related to owners Krumlov estate. Price for adults 57 EUR. Entrance fee to the Castle museum and lunch is included in the price.
«KARLOVY VARY and MOSER FACTORY»
(Duration: 9,5 hours).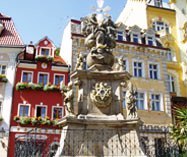 Karlovy Vary is probably the best known spa town in the Czech Republic. Its history begins in the 14th century, during the reign of Charles IV. The healing powers of the local springs were tested by such greats as Russian Tsar Peter the Great and German writer Goethe.Karlovy Vary also became famous thanks to the manufacture of world renowned Moser crystal,Carlsbad porcelain or the herb liqueur Becherovka. After arriving inKarlovy Vary, your group will visit the Moser factory and then be taken on a tour of the town centre by our guide, where you will see the most famous geyser Vřídlo, which gushes to a height of almost 12 metres. After lunch, you will have the choice of being free to explore the town on your own or to take a swim in the outdoor pool of the Thermal hotel. In the case of the latter, do not forget to take a towel and swimsuit with you. Price for adults 40 EUR, for children 30 EUR. Entrance fee to the Moser factory and lunch is included in the price.
«KONOPISTE CHATEAU»
(Duration: 4 hours)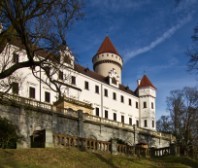 Come with us to visit the beautiful Konopiště chateau, the former seat of the successor to the Habsburg throne, Franz Ferdinand d´Este. Originally a castle from the 14th century, it was bought by F.F d'Este in 1887, who used it as his family's seat until his assassination in Sarajevo, which launched World War I. The chateau contains not only Ferdinand's extensive art collection, but also a countless number of hunting trophies, a collection of statues and paintings on the theme of St George, and much more. Price for adults 37 EUR, for children 31 EUR, including lunch and entrance fee to Chateau tour 1
«KUTNA HORA» – UNESCO site
(Duration: 5,5 hours)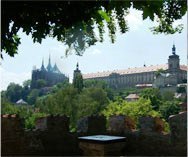 Kutná Hora, a medieval silver mining centre, was once the second richest city in theKingdomofBohemia. The former wealth of the town is today reflected in the variety of architectural monuments and preserved structure of the town centre. The tour of Kutná Hora will not only take you to St Barbara's Church and the Italian Court (Vlašský dvůr) – the former Royal (Central) Mint – but also to many beautiful gothic, renaissance and baroque townhouses and a unique stone fountain from the 15th century. You will also visit one of the most interesting burial grounds in the world: the Sedlec Ossuary. This chapel is decorated with more than 40 000 human bones, arranged into a chandelier, the Schwarzenberg Coat-of-Arms, and so on. Kutná Hora has been on the UNESCO list of heritage sites since 1995. Includes entrance fees for: SAINT BARBARA'S CHURCH, ITALIAN COURT (VLAŠSKÝ DVŮR) AND THE ROYAL MINT SEDLEC OSSUARY
«KARLSTEJN – CHARLES IV TRESURY CASTLE»
(Duration: 4 hours)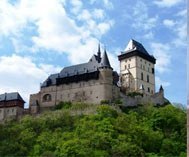 KarlštejnCastleis one of the most visited castles in the CzechRepublic. It was built by Charles IV between 1348 and 1355. It originally served to safeguard the imperial and royal treasure and the Crown jewels and as an archive of state documents. This gothic castle, which will enchant you with its monumental architecture, can be found about 38 km southwest of Prague. After climbing the hill, an hour-long tour of the interior awaits you. Your guide will acquaint you with the not only the history of the castle, but also with the life of Charles IV and art during his reign. Price for adults 37 EUR, for children 31 EUR, including entrance fees for Castle tour 1