Spa Hotel St. Joseph ROYAL REGENT
Address: Zahradni 7, Karlovy Vary, 36001 (map)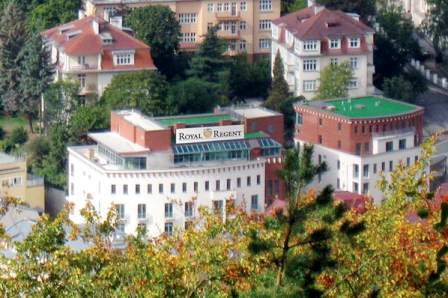 This new spa hotel superior St. Joseph Royal Regent is located in very quiet part of spa area and also close to all springs. The hotel is known for first-class service, unique hotel wellness studio and a balneological division of top standards.
The brand new wellness studio Skyland is situated on the top floor of the hotel. It features the Finnish sauna, steam bath, tepidarium, solar meadow, whirlpool and a bar. But a real jewel is a big swimming pool with waterfalls where the walls and the roof are made of glass, so the guests enjoy looking at the sky and nature. Everything is surrounded by a big terrace with a wonderful view of the spa centre.
The most modern spa centre in Karlovy Vary is available for the clients in the newly opened top spa hotel St. Joseph Royal Regent from the 2nd part of March 2010. On an area of more than 350 m2 the clients is provided with really first class spa treatment of a top European standards and methods including baths in thermomineral water, physiotherapy, thermotherapy, oxygenotherapy, hydrocolony, electrotherapy, pneumoacupuncture, irrigation of gums and a wide range of massages will be used in the treatment of clients.
Unique facts about hotel:
It was a former spa house for priests built in 1889 and run under the name Kurhaus St. Josef. High church dignitaries stayed here, such as Cardinal van Rossum from Holland, the Viennese cardinal Piffel, Archbishop Count Zichy, the Romanian bishop from Temeszvár or the Prague cardinal Karel Kašpar. The Federal Chancellor Ignaz Seipel from Vienna, too, used to like the St. Josef Kurhaus.
Rooms in hotel
Hotel features 81 rooms of different categories: Single room, Classic, Vista, Superior, Vista Grand and Suite.
Prices for 2016
ROOMS
Low season
13.11 - 10.3
01.11 - 23.12
Middle season
11.3- 07.4
01.6 - 31.7
High season
08.4 - 31.5
01.8 – 31.10
ТОР сезон
24.12 - 12.1

Price per person per night, €
HB
FB
HBT
FBT
HB
FB
HBT
FBT
HB
FB
HBT
FBT
HB
FB
HBT
FBT
SINGLE
129
140
112
117
148
160
132
137
168
179
151
156
182
193
162
167
CLASSIC
143
154
93
98
168
179
108
113
192
204
127
132
207
219
136
141
VISTA
158
169
103
108
177
189
117
122
201
213
132
137
221
232
142
147
SUPERIOR
162
174
108
113
187
199
123
128
212
223
142
147
231
243
151
156
VISTA GRAND
187
199
123
128
207
219
142
147
236
247
156
161
255
267
166
171
SUITE
236
247
151
156
260
271
166
171
299
311
181
186
334
345
205
210
EXTRA BED
79
91
58
63
90
101
69
74
99
110
84
89
109
121
93
98
Spa treatment per week includes:
welcome drink, bath gown and slippers
1 medical examination
6 major spa procedures, 11 minor spa procedures
Special treatment conditions for childern under 12 years:
check-in special medical examination by pediatrist
10 spa procedures per week
Accomodation options:
FBT- full borad and treatment
HBT - half board and treatment
BBT - breakfest and treatment
FB - full borad
HB - half board
BB - Bed and Breakfast

Discounts:

10% for children under 12 years on the fixed bed
20% for children under 12 years accommodated with 2 adults in the room on the extra bed
Send a request to check availability of the hotel
* Required field