Savoy SPA hotel
Address: Ruská 4, Frantiskove Lazne, 351 01 (map)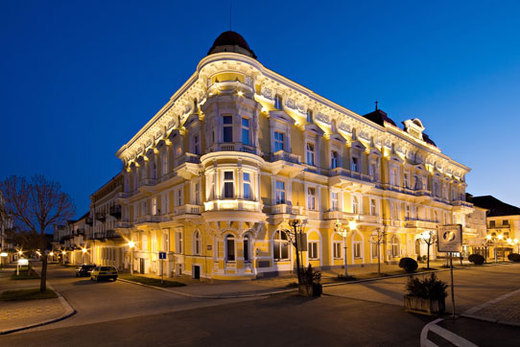 Neo-Renaissance building of sanatorium Savoy sanatorium was built in 1795 by architect Anton Shambel. This is one of the oldest hotels in the city, that has preserved a tradition of hospitality, as well as atmosphere of care and attention to their clients. The hotel has a wonderful restaurant, cafe-bar and a fully equipped balneology center with a natural spring of mineral water, an indoor pool and a sauna.
On the first floor there are additional services such as a beauty salon, pedicure, hairdresser. Czech and international cuisine as well as dietary meals, preparing for visitors by restaurant staff "Savoy".
In addition, for all hotel guests from Monday till Friday is unlimited access to aquapark Aquaforum.
Rooms in hotel
The resort has 53 single rooms, 34 double rooms in several categories, depending on size of rooms (standard rooms, comfort and superior) and 6 apartments.
Indications for spa treatment
Diseases of cardiovascular system: coronary heart disease, angina, heart failure, postinfarction state hypertension.
Diseases of musculoskeletal system: metabolic disease with damage to joints, vertebral back pain, painful functional disorders of the spine, post-traumatic conditions of musculoskeletal system and the condition of patients undergoing orthopedic surgery, deforming arthritis, arthritis without inflammation, juvenile scoliosis, rheumatism (in including children) and its implications.
Diseases of nervous system.
Treatment of gastrointestinal tract.
Control care after cancer.
Treatment of skin diseases.
Prevention programs.
TREATMENT
Physiotherapy

• Paraffin wraps

• Magnetic therapy

• Several types of electrotherapy

• Therapeutic exercise

• Reflexology

Special treatment:

• Manual and mechanical lymphatic drainage
The price of spa treatments includes:
Primary, control (1 per week) and final medical examination.
18 spa treatments per week, prescribed by doctor in accordance with current state of health.
Accommodation in desired category.
Meals: full board (FBT) or half board (HBT)
Unlimited access to "Aquaforum" from Monday to Friday from 9 to 21 hours.
Prices for accommodation and treatment in Savoy sanatorium 4 *
The gross price (incl. 18% commission for agents to net price EUROPA STARTOUR) for 2016
ROOMS

16.11 - 07.3

09.3 - 10.5
05.10 - 15.11

11.5 - 04.10

Price per person per night, €
HBT
FBT
HBT
FBT
HBT
FBT
DBL STANDART
53
58
62
67
72
77
SGL STANDART
57
62
67
72
82
87
DBL COMFORT
57
62
66
71
75
80
SGL COMFORT
61
66
72
77
87
92
DBL SUPERIOR
61
66
69
74
77
82
SGL SUPERIOR
64
69
75
80
89
94
* Min. period of stay in the resort - 7 nights.
For arrivals from 21 to 31 December 2014 min. length of stay - 14 nights. 24, 25 December 2014 and 1 January 2015 procedures are not carried out. Within this period - an obligatory surcharge for gala dinner: 50 euros - Christmas, New Year - 100 euros per person.
Discounts for children on an extra bed:
• 0-5 years old - free of charge (hotel accommodation with meals)
• 6-10 years old - 50% of the cost (hotel accommodation with meals)
• up yo 11 years - the total price of a tour.
• Airport – Frantiskove Lazne - € 90 (per car 1-3 pers.)
Our Contract partners may book Spa therapeutic tour in Savoy sanatorium 4 * online.
New partners will be able to access our on-line booking form on this link.
Send a request to check availability of the hotel
* Required field