Interhotel Central
Address: Divadelni namesti 17, Karlovy Vary, 36001 (Map)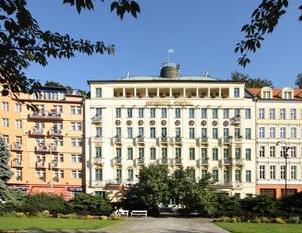 Interhotel Central provides accommodation in the historical center of the spa town of Karlovy Vary. The hotel offers a luxurious panoramic view of the river and the architecture of the imperial style.
The hotel's balneology services and facilities place it among the best sanatoriums in the spa zone. It is certified to use the mineral waters from the thermal springs for procedures. The sanatorium offers both comprehensive and relaxation treatments for diseases of the digestive tract, joint and spine problems and metabolic disorders. Children from the age of 6 can be treated.
The restaurant serves international cuisine and also caters for special diets that form a necessary part of the comprehensive treatment.
The Interhotel Central also has its own swimming pool and whirlpool bath, a sauna, a solarium, a fitness centre, a beauty salon, a hairdresser, pedicure, a billiards room, an internet room and its own garage.
Unique facts about hotel:
The history of the Interhotel Central sanatorium dates back over 100 years.
Rooms in hotel
Hotel features 84 rooms of different categories, including 258 standard rooms and 35 luxury suites.
Prices for 2016
Rooms
High season
01.4 – 31.10
22.12 - 12.1
Low season
13.1 - 31.3
01.11 - 21.12
PRICE € per 1 person per day
HB
FB
HBT
FBT
HB
FB
HBT
FBT
SINGLE
€134
€144
€151
€158
€114
€124
€118
€125
DOUBLE
€112
€122
€133
€140
€91
€101
€101
€108
DOUBLE LUX
€132
€142
€148
€155
€104
€114
€111
€118
SUITE
€147
€157
€168
€175
€118
€128
€131
€138
SUITE LUX
€158
€168
€188
€195
€126
€136
€151
€158
SUITE premier
€184
€194
€198
€205
€144
€154
€161
€168
Children 6 – 12 y.o. ( HBT + FBT) / EXTRA BED
DOUBLE,DOUBLE LUX
€76
€86
€103
€110
€61
€71
€82
€89
SUITE,SUITE LUX
€92
€102
€122
€129
€71
€81
€92
€99
SUITE Premier
€122
€132
€152
€159
€92
€102
€122
€129
Accomodation options:
FBT- full borad and treatment
HBT - half board and treatment
BBT - breakfest and treatment
FB - full borad
HB - half board
BB -

Bed and Breakfast

Additional services
Breakfest + €14 /person per day
HB + €24 /person per day
FB + €34 /person per day
Garage – €12 per day
Animals - €15 per day
Send a request to check availability of the hotel
* Required field